Manila, Philippines (CNN)
-- Fueled by seasonal monsoon rains and a nearby tropical storm, widespread flooding in the Philippines worsened Tuesday, killing at least 11 people, the national disaster agency reported.
A landslide in the Manila suburb of Quezon City buried two houses, leaving nine people dead and four others injured, according to the National Disaster Risk Reduction and Management Center.
Three of the dead were children, the state-run Philippines News Agency reported.
The capital city of Manila got 504 millimeters (about 20 inches) of rain Tuesday, PNA reported, with more on the way.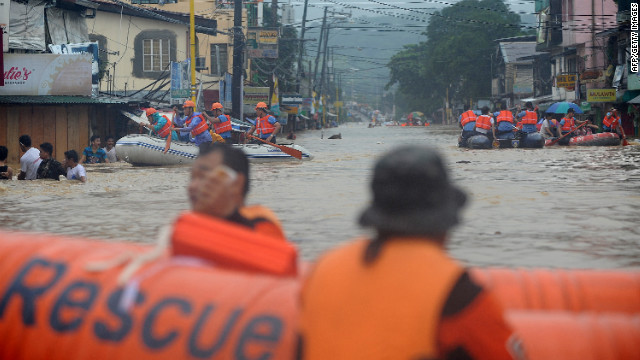 Rescuers maneuver down a flooded street as they evacuate residents in the village of Tumana in suburban Manila on Tuesday, August 7, after torrential rains inundated most of the capital. Authorities have issued a red alert for the metropolitan Manila area. Downpours are expected to continue Wednesday.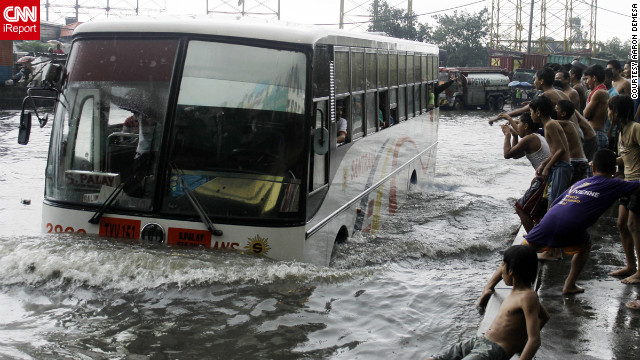 Aaron Demesa, an iReporter, took this image Tuesday of the North Luzon Expressway in the Manila village of Balintawak.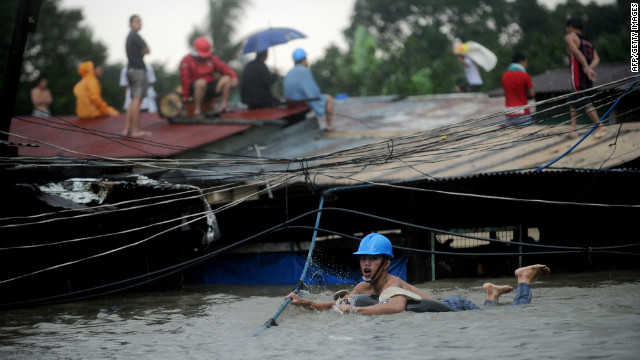 A man tries to cross floodwaters by following a robe as other residents wait on their roofs in Manila. At least five people were killed and seven were missing as torrential rains brought the Philippine capital to a standstill, with floodwaters covering half the sprawling city, officials said.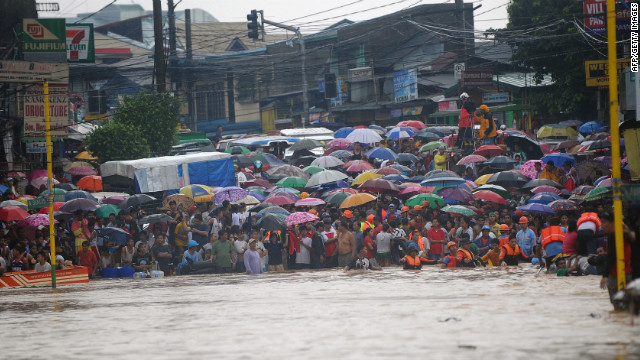 Residents wait for their family members to be rescued at the end of a flooded street in the village of Tumana, a suburb of Manila, Philippines, on Tuesday, August 7.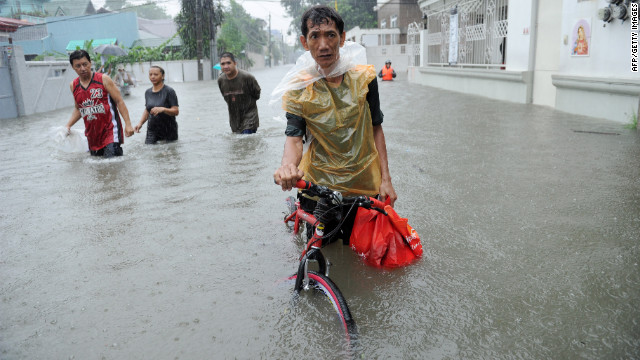 A resident pushes his bicycle through floodwaters in Quezon City in suburban Manila.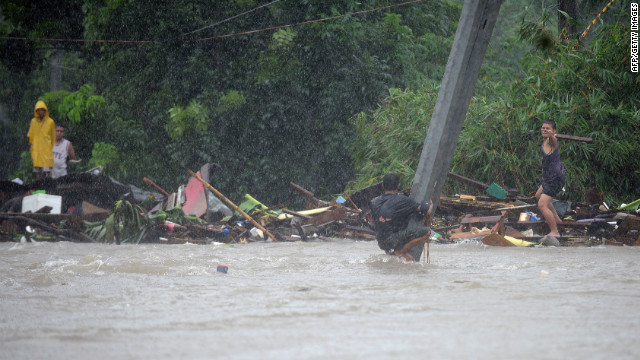 A man clutches a pole in flood waters after a river overflowed following torrential rain in Manila.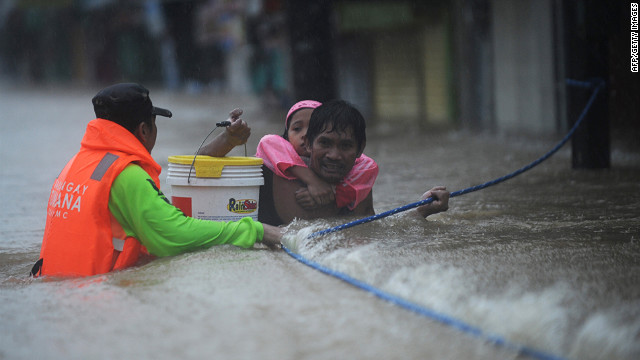 A rescuer guides a father carrying his daughter on his back through a strong current.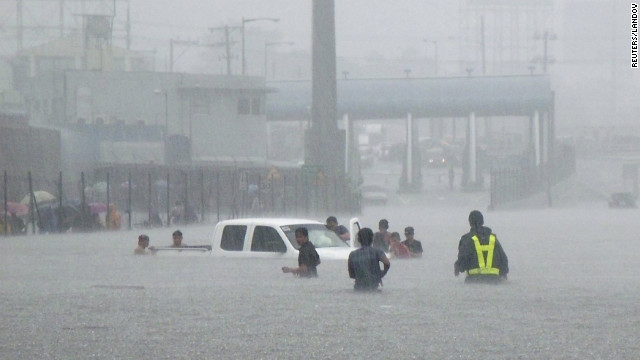 Motorists and passengers are trapped on the North Luzon Expressway as heavy rains continue Tuesday in Valenzuela City.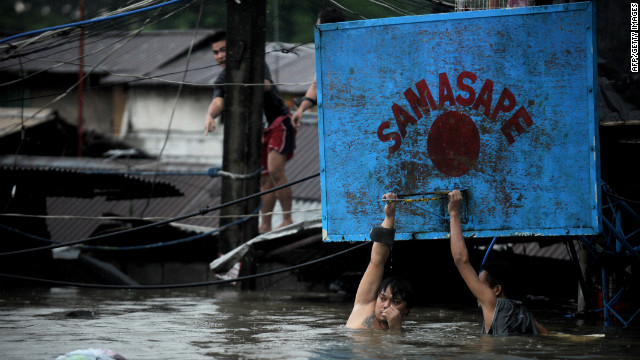 Two men hang onto a basketball hoop in deep floodwaters in Manila.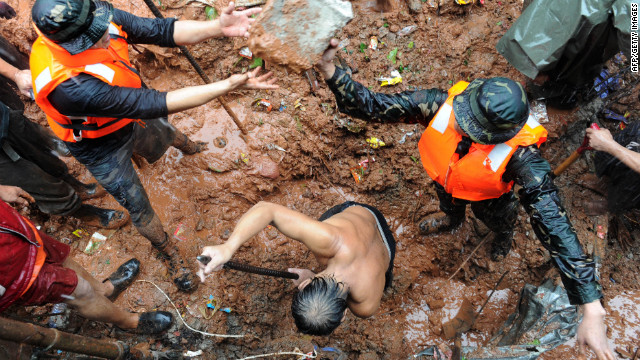 Rescuers dig through the rubble of a landslide caused by flooding as they try to rescue victims in Quezon City in suburban Manila.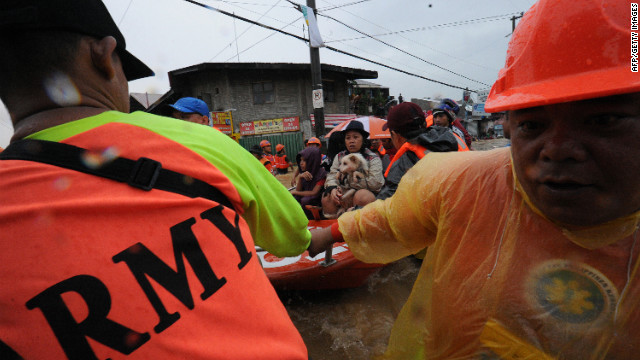 Rescue workers prepare to unload residents in the village of Tumana after their homes were flooded.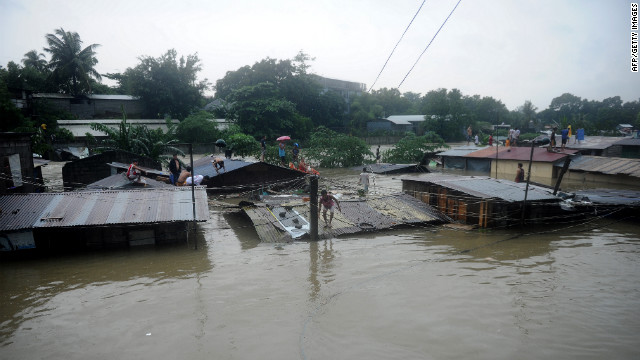 Residents seek shelter on the roofs of their homes as floodwaters continue to rise in Manila.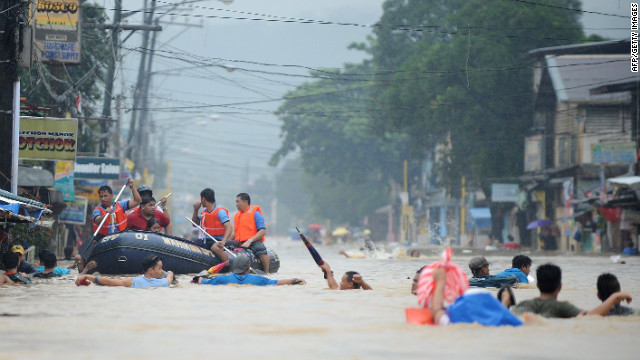 Residents wait on the roofs of buildings as rescuers make their way down a flooded street in Tumana.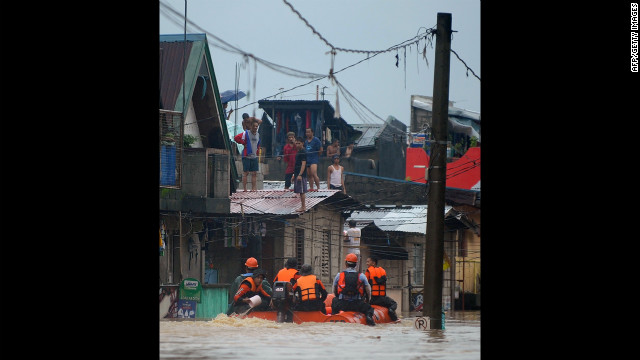 Rescuers in rubber boats evacuate residents from their homes in Tumana.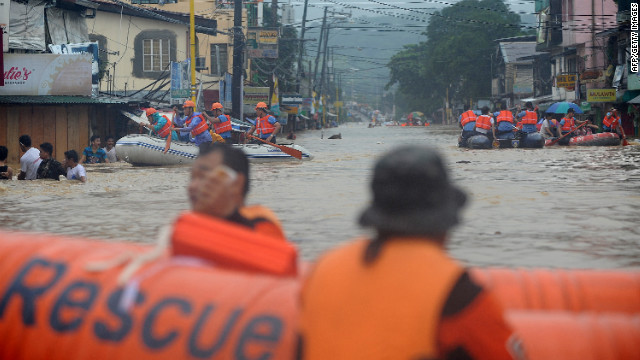 Flood waters rise around Philippine capital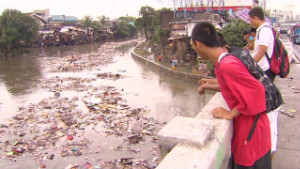 Deadly flooding paralyzes Manila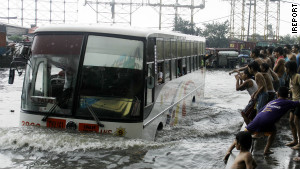 Philippines braces for more flooding
The country's weather service -- the Philippine Atmospheric, Geophysical and Astronomical Services Administration -- warned the Manila region's 12 million residents of continued torrential rains and serious flooding through Wednesday.
"It's like a water world," Benito Ramos, head of the disaster agency, said of the city, according to PNA.
The national railroad called off service, and many roads were under water. Some dams were beginning to overflow, putting more communities at risk, the authorities said.
The flooding has already forced more than 780,000 people across the country from their homes, the disaster agency said. About 242,000 were staying in emergency shelters Tuesday night, according to the agency.
Rescue requests continued to come in early Wednesday, including some people who were using Twitter to contact the authorities for help.
"Pregnant woman needs help! Staying on top of a roof," one Twitter user posted, followed by an address. "Please help BORRES FAMILY w/ 2y/o child!!," posted another.
The weather agency warned residents to expect more landslides and flash flooding, and the authorities urged residents in low-lying areas to move to higher ground.
As well as the deaths in the landslide in Quezon City, two people died from electrocution and drowning outside the Manila region, the disaster agency said early Wednesday.
Those deaths came on top of the 53 people who had already been killed across the Philippines by heavy wind and rain in the past few weeks.
In an effort to save lives and make way for rescue and relief efforts, President Benigno Aquino ordered work suspended at government and private offices around the capital region Tuesday.
Government offices and schools were also to be closed Wednesday, the president's office said.
Deep water in many parts of metropolitan Manila blocked roads, stranded cars and flooded homes. In several areas, the water was waist deep or higher, the Metropolitan Manila Development Authority said in its Twitter feed.
"Last night it was raining cats and dogs, or even like elephants banging on your roof top," said CNN iReporter Rummel Pinera. "You cannot sleep when it's raining for several hours like this, it was like a deluge."
Another iReporter, Jumar Rejuso, said the downpour was terrifying.
"We had to force ourselves to leave in order to be spared from the wrath of the raging waters," he said. "It was the first time I have witnessed in my entire life a flood as big as that."
Flooding has struck across the Philippines, with high water reported in 46 communities across the country, the disaster agency reported.
The authorities in Marikina City imposed a forced evacuation of areas near the Marikina River, which has risen above critical levels, PNA reported.
The National Disaster Risk Reduction and Management Council said the Ambuklao, Binga and San Roque dams were releasing water, putting several cities at a higher risk of flooding. The agency warned residents living near the dams to be on the lookout for rising waters.
U.S. Ambassador to the Philippines Harry K. Thomas said Tuesday that the United States would provide $100,000 for disaster relief.
The rain and flooding are the result of the normal summer monsoon enhanced by the effects of Tropical Storm Haikui, the Philippines weather service said. The storm made landfall on the east coast of China on Wednesday morning.
The Philippines had already been lashed by heavy rain and wind in recent weeks resulting from Tropical Storm Saola, which plowed past it before hitting Taiwan and China at the end of last week.
The country is frequently subjected to flooding and landslides caused by heavy rain. In December, Tropical Storm Washi left more than 1,200 people dead after it set off flash floods that swept away entire villages in the southern Philippines.
WE HAVE a deep love for the Philippine Country and the Filipino people! Our daughter Avi is adopted from the Philippines. Her orphanage has not been affected but we have many Filipino friends and sisters/brothers in Christ in the Philippines. One of our dear friends that I have spent time with in the Philippines has worked to grow a Christian school/Day care to help special needs children to be educated alongside children with no special needs. Upon contacting her she writes:
Hi Stephanie,

Thanks so much for reaching out...
Photo: Lizbeth who is writing about the flooding and asking for help is pictured on the far left with her daughter, Elysse (who has special needs and is the special child the LORD used to draw us together). Also pictured...Sasha, Stephanie, Avi and Aunt Dell (another dear sister in Christ the LORD is using to bless the orphan).
the depressed community we are helping in
Cavite where the Day Care is located, people lived in coastal area,
has been very much affected. One of our teachers/church workers have
to evacuate from their home and go to Day Care and church building
which serves as the refuge place of the people. Based on my
conversation with one of the teachers just this morning, there is no
help yet from the government. I will request them to do further
assessment to kids and families who were badly affected so help can be
extended the soonest.

Yes please as the Lord leads, we need help to help other people
especially kids and those with special needs. I hope to have the
quick assessment this morning so help can be given to them the
soonest.
Another sister in Christ who gives of her own time to help care for the orphans writes:
The flooding is in the Luzon area wherein Metro Manila is 80% under water. Many of our colleagues were affected by the flood. Until there now there are no classes and offices in many places in Metro Manila and nearby provinces.
Please continue to pray for our country..Please pray also for those who are greatly affected by this flood that God, through His people, will be able to minister to them in a very special way, that they will feel His love and comfort.
Thanks for praying Steph.
My heart breaks to see such heart ache and pain no matter where but when the hurt and pain is among those that we love and cherish the burden to help "HITS HOME!"
If you sense the LORD calling you to help please donate to the chip in on the side bar! Thank you so much for caring and for praying!!!
Proverbs 31: 8 -9 Be a voice for the voiceless!